Hear from our own Old Ironsides Midshipmen about what's going on in the Battalion!
By: MIDN 3/C SEAN CROZIER
On Wednesday, December 4th, the BU-MIT Consortium engaged in a Change of Command Ceremony marking the end of the fall semester. The Change of Command Ceremony is a naval tradition with a long history, dating back to 1865 during the Civil War. Typically taking place onboard a vessel, the ceremony calls for all available personnel (in this case, both MIT Company, BU Company, and unit staff) to be present in order to witness the formal exchange of command from one Commanding Officer to the next. On this occasion, MIDN 1/C Pilepich handed command over to MIDN 1/C Shertz. Though the Change of Command Ceremony is often the first time the crew meets the new commanding officer, and the last time they see the old, MIDN 1/C Pilepich and MIDN 1/C Shertz have been with the battalion for seven semesters, and will continue through the eighth.
Dressed in Service Dress Blue's (SDB's) in front of the near 100 Midshipmen, command was passed with the phrases "I relieve you" and "I stand relieved", elevating the interaction used in every transfer of the watch.  In the speeches they gave to the battalion, both Midshipmen lauded initiative as a character trait to be focused on in the coming semester. Where we see problems or opportunities for the battalion, Midshipmen should turn to the chain of command with solutions and a plan of attack, as well as the willingness to execute them. 
Brunch was provided after the ceremony, giving Midshipmen one last time to mingle until the next semester. Winter break offers a short reprieve, and a chance to reflect on the actions of the fall while building energy for the spring. A reading assignment was sent out - Turn the Ship Around, by David Marquet - to focus our reflection and prepare us for the start of the year in February.
See you next year.
By: MIDN 4/C FRITZ HUMM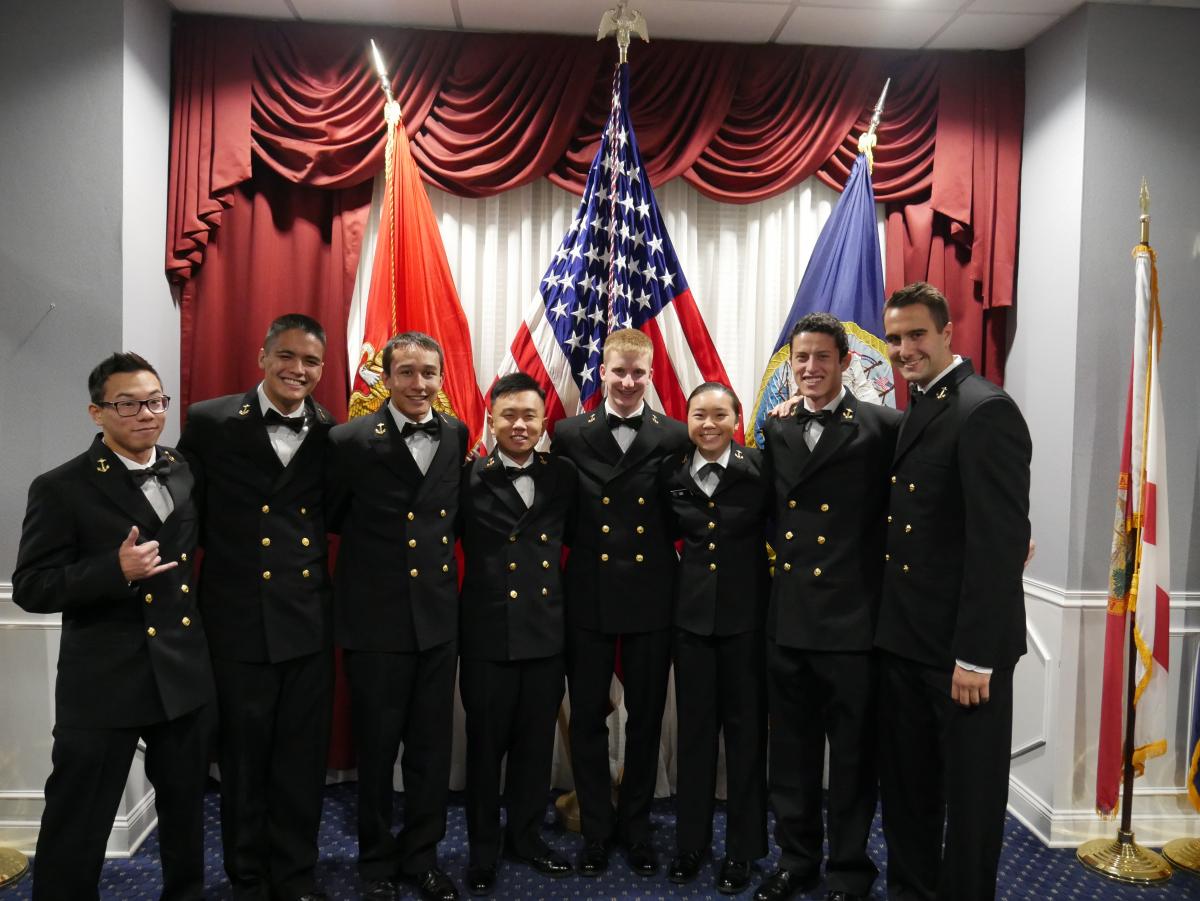 On November 2, 2019, The Old Ironsides Battalion of NROTC celebrated the birthdays of the US Navy and the US Marine Corps.  This time-honored tradition allows members of the Navy and Marine Corps to celebrate, alongside their friends and family, everything that these military branches do for their country.  But beyond that, it is truly a time to bond and a time to grow closer to those in the same service as you are.  The Birthday Ball is meant to honor and celebrate the service and sacrifice off all those who serve or have served in the Navy and Marine Corps.  While we sit back and enjoy the ceremony, meal, and plenty of dancing, it is also important that we take a second to remember those who are not with us, either due to being deployed, or from losing their life in the life of duty. 
As a 4/C midshipman, this was my first year celebrating the Birthday Ball.  Walking through the doors of the ceremony, it was easy for all of us to forget the countless hours of work we spent in order to prepare and set up the venue.  At that moment, all that mattered was the traditions that we had the honor to take part in.  Many questions were still racing through my head, however.  Would the ceremony be boring?  How would the food taste?  Would I get to take the pictures my parents demanded I send them?  Luckily, I was not disappointed in a single regard.
Having no idea what a Birthday Ball ceremony would involve, I was pleasantly surprised by every aspect of the night.  I thoroughly enjoyed seeing all of the 1/C midshipmen announced with each of their service selections.  It was inspiring to think that in only a couple of years, one of those names would be mine.  The sword detail did an incredible job of setting the stage and getting everyone in the proper military mindset.  After that, the cake came out.  Part of the ceremony, which was fascinating to me, involved the sharing of the first piece of cake between the eldest and youngest sailors in the room.  This represents the passage of knowledge and experience from one generation to the next. 
Easily the highlight of the evening was the guest speaker, Rear Admiral Shoshana Chatfield.  As a graduate of Boston University and our very own Old Ironsides Battalion, she had an incredibly unique perspective to give us midshipmen.  She particularly had valuable insight as to what it was like learning to be a female Naval Midshipman and Officer during that time.  Her words and message resonated with everyone in the room.
The festivities side of the night also did not disappoint.  The cocktail hour leading up to the ceremony allowed for plenty of mingling and catching up with midshipmen we do not get to interact with that often.  This time also gave me the opportunity to introduce my date for the evening, someone not affiliated with the Navy or Marine Corps in any way, to other midshipmen and officers.  To me, this is one of the most important parts of the Birthday Ball.  It is not just a time for the Navy and Marine Corps to celebrate, but also all the friends and family who live alongside them.  
The Birthday Ball is a celebration of service, sacrifice, and success.  Whether represented through the military bearing of the sword detail, passing of knowledge and experience seen through the sharing of cake, or in the words of the guest speaker, this celebration holds something valuable for everyone involved.  At the end of the night, riding back to my university in an Uber with rain hitting the windows, talking with my friends of the night's festivities, I couldn't help but feel proud.  I was proud to be a midshipman, proud to one day serve my country, and most importantly proud to stand with everyone else celebrating this incredible tradition alongside me.
By: MIDN 4/C ANNABELLE JIMENEZ
"GET OUT OF THE VAN!"
"EAAAARS!"
This is apparently the usual beginning of a Field Exercise, and is what we were greeted with upon arrival at Fort Devens. At the first order to set up tents, it became clear that we were going to be thrust into this new environment, but there wasn't a lot of room for a learning curve. The immediate shift from casual banter in the van to MIDN Wong barking orders was enough to instill at least a little fear about what was to come.
There were two ways to look at the first FEX for MIDN Reid and I: the 4/C had not yet learned anything, so we weren't expected to know anything. Alternatively, the 4/C had not learned anything yet, so we were going to get roughed up as we inevitably made mistakes. Over the span of the weekend, it became clear that the latter was true, because the FEX wasn't about the 4/C, it was about preparing the 2/C for what they're going to experience at OCS.
Due to a Triple E mosquito threat in Fort Devens the weekend of the FEX, it had to be cut a day short, but the schedule was as follows:
Set up tents and get issued rifles. This took significantly longer than the prescribed 10 minutes. I don't think some of us 4/C, including those from Yale and RPI which we were joined by, were able to grasp how to properly clear and handle a rifle until the very end of the FEX. Immediately, we went to bed and woke up early to get ready to go before mustering at 0500 for the ruck, a practice we were used to from NSI. During the 4-mile ruck, MIDN Reid and I had the privilege of each carrying the guide-on for half the time. Nothing is more motivating to overcome weakness like being in the front of a group.
We then practiced land navigation, something we were introduced to the week prior. Nothing beats practical application, which I learned as MIDN Braunegg hit all of the correct points. I did not have such luck. MIDN Reid and I were assured that it would come with time and practice.
Then came Fire Team on the Offensive drills, thereby practicing hand and arm signals and fireteam formations we had just learned. This was arguably the most "fun" part, as we got to actually move and work as a team to accomplish certain objectives. It gave the opportunity for some minor leadership experience because everyone in the fireteam was a vital piece of the movements. It felt intense while we were doing it, but there were a few memorable moments as well; notably, seeing the MIDN who painted his entire face green with no lines or contours, and accidentally inhaling bug spray that we continuously reapplied.
 Cleaning rifles was next, accompanied by some well appreciated pizza after a weekend of field stripped MREs. One of the 1/C from a different school was generous with OCS stories, including how he was supposedly deemed the best face painter at OCS. We all sat on the ground for at least an hour, meticulously scrubbing, and then waiting until all rifles were fully clean and accounted for before we could even think about leaving.  
Finally, we were going home. All packed in a van, we were relieved to be heading back to BU. While some of the MIDN fell asleep, others sang loudly along to the country music that was playing on the radio.  
Now that we have been through our first FEX, the initial fear and nervousness has been replaced by a newfound confidence. With every evolution I realized the body is capable of impressive things if you want it bad enough. Now, with everything that I have learned, I look forward to the next FEX. 
By: MIDN 4/C TYLER WORTHLEY
There are unwritten responsibilities that come with wearing a uniform around campus.  You are expected to carry yourself with elevated standards of professionalism and integrity.  Your actions reflect upon the entire armed services as much as they do on yourself. In times of crisis and emergency, you are perceived to be a more effective aid than an average bystander.  Crisis, however, does not restrict itself to days when you are in uniform. This is the situation MIDN 4/C Lang recently found herself in.
MIT's infinite corridor is its busiest hallway- crowded with students and tourists alike.  While walking back from class, MIDN Lang noticed an older man unconscious and laying on the floor.  She explained that "A man was asking for help, and no one else was actively doing anything. I felt obligated to do something having previous knowledge as a lifeguard."  She checked for breathing and pulse, moved him to recovery position, and alerted emergency services. "It was wrong that not a single person was able to do anything. Everyone should at least be CPR trained."
MIDSHIPMEN PRACTICING THEIR CPR SKILLS.
The battalion agreed.  MIDN 1/C Russo organized formal CPR training with Harvard's Crimson EMS open to any midshipman.  Evolutions covered during this training included CPR and AED use on infants, children, and adults, and general first aid procedures such as the use of EpiPens, tourniquets, splints, and the Heimlich maneuver.  MIDN Russo says, "Having the training and tools necessary to save someone's life is not solely designated for medical personnel. If properly used, first responder intervention has been shown to increase the victim's chances of survival by 50%."
Battalion MIDN Commanding Officer MIDN 1/C Davitt offered up more words on the importance of situational readiness.  "It is important that we undertake training in practical skills that could come in handy in everyday life, along with the ROTC mainstays of developing leadership skills and education on fleet topics. Because we are in the military, we are automatically looked upon by society to serve as leaders, whether on duty or not, so possessing basic life-saving skills like CPR and First Aid allow us to take control of a situation properly and live up to that expectation."
MIDN 4/C AKHTAR CREATES A SPLINT FOR MIDN 1/C DAVITT'S ARM
These skills are even more useful in the fleet.  Operating in dangerous work environments, it is important to be ready if an accident happens.  Anything from choking to cardiac arrest to blunt trauma needs immediate and proper attention, and much of the training was dedicated to quick response drills that acknowledge these scenarios.  One of the drills was entire run-through on how to approach someone in distress. Trainees practiced checking vital signs of mannequins, calling 911, approaching bystanders for assistance, and performing CPR and administering an AED to the patient.

POST-CERTIFICATION SMILES
Being a member of the armed forces isn't just a job.  You don't get to quit representing your country when you go home for the day.  Preparedness and accountability are critical traits for future officers, and solidify your leadership presence on and off the job.  In total, ten midshipmen received CPR and First Aid certification. Here's to the lives they might end up saving!
Midshipmen from units across the country attend weekend-long "Leadership Conferences" throughout the school year. These conferences often entail driving or flying to another school, staying in a hotel room, and spending the weekend listening to guest speakers and participating in workshop discussions about topics relating to the central theme of the conference. The amount of time and resources spent on attending these conferences makes it important to consider why these conferences present a unique training opportunity that midshipmen could not get from leadership lab.
These conferences present an opportunity for midshipmen to get out of their units, and hear opinions from thought leaders in the field, as well as from their peers across the country. Many cite the opportunity to meet and hear from more of their peers as one of the most valuable parts of a leadership conference. "It's good to get fresh opinions on various leadership dilemmas that come up in the Navy" says MIDN 2/C Ramirez.
MIDN 2/C SCHERTZ WITH NEW FRIENDS MADE AT THE UNIVERSITY OF MICHIGAN WOMEN IN NAVAL SERVICE SYMPOSIUM.
Forming those connections is an essential part of these conferences, and of leadership development in general. The Chief of Naval Operations, Admiral John Richardson, previewed the next version of the "Navy Leader Development Framework" at the Yale NROTC Leadership Conference and spoke about connections as one of the three lanes of leader development. He says, "connections…are vitally important in terms of making progress". These connections allow us to share ideas and best practices across the fleet, and give us people that we can reach out to for advice in both our ROTC and commissioned officer careers.
The friendships formed also help to make the Navy seem a little smaller for ROTC midshipmen. These conferences are a way for many to maintain friendships formed at summer cruises, and are a way for others to make new friends that they will see in the future; MIDN 1/C Russo found roommates for flight school at the Notre Dame Naval Leadership Weekend!
MIDN 2/C HERINGTON CATCHING UP WITH FRIENDS AT THE YALE NROTC LEADERSHIP CONFERENCE.
Another component of leadership conferences that many midshipmen highlight as the most valuable part is the additional resources they have, and their ability to bring together thought leaders from across the national security community. "Instead of hearing generic JO advice… we engaged in deep discussions with subject matter experts" says MIDN 1/C Russo.
These leadership conferences are able to pull speakers from the professors at the university, and guests who visit from national security establishments nearby. These guests might come from academia, DOD graduate schools like the Naval War College, defense industry, or think tanks. The conferences are able to pull these thought leaders together in ways that midshipmen would have not had the opportunity to hear from otherwise, allowing them to create a unique training experience.
MIDSHIPMEN FROM THE BOSTON BATTALION AT THE NOTRE DAME NAVAL LEADERSHIP WEEKEND.
The BU-MIT Battalion recently announced that it will be organizing its own conference; the Old Ironsides Joint Leadership Conference. This conference will offer the resources of all six schools in our Consortium to cadets and midshipmen who attend. Pulling from the strong IR and Technology Departments across these schools will allow the conference to explore emerging technical challenges in national security in greater depth. The workshops at the conference will dive into specific technical issues, and enable participants to ask more in-depth questions of the guest speakers.
The conference is also unique in that it is a joint service conference. "Joint service opportunities are few and far between. We could all stand to learn about different branches' leadership challenges. With increasing value on integrated warfare, joint commands… would benefit from strong inter-service relationships and we believe that should start during training" says the conference organizer, MIDN 3/C Carroll.
Old Ironsides Battalion's Leadership will hopefully deliver on the components that midshipmen have highlighted as key in previous conferences; greater resources and incredible quest speakers, and the ability to network with an extended group of peers. These aspects make leadership conferences unique training experiences, and are why we keep attending them year after year.
By: MIDN 3/C MUNTER
While many of the evolutions in NROTC are mandated by big Navy policies, one of our unit's most impactful programs is something that not all universities do. In the Boston NROTC Consortium, every 4/C Midshipman must complete the PQS Program. PQS Stands for Personnel Qualification Standards, and is modeled on programs that are seen everywhere in the fleet. 4/C MIDN are issued a packet filled with professional knowledge and training standards to be completed and signed off on by a senior midshipman in their chain of command. Over the course of a semester, our freshmen are to complete all of the qualification requirements within that packet and then complete an oral examination and uniform inspection, called a board, in front of the Midshipman leadership on the knowledge they have learned.
MIDN 4/C CHUNG STANDING BEFORE THE BOARD.
Though not all units conduct a PQS program, our Consortium finds great training value in them. The 4/C completing the process have to gain a baseline level of Naval professional knowledge, including items such as the memorizing the Code of Conduct, visually identifying naval platforms, and marching movements, among many others. In order to finish the requirements on time, many Midshipmen devote themselves to a rigorous study schedule. MIDN 4/C Costello described how he held himself to completing a certain amount of signatures every week, saying that "It's definitely stressful at times, there's already so much going on between my normal classes, Naval Science, and playing a sport, and then after all of my normal studying there's still my PQS requirements looming." According to MIDN 4/C Kaminska, "The hardest part of preparing is making time to prepare." To be able to complete the program, the 4/C have to develop skills of time management, initiative, accountability, and study habits that will help them in school, NROTC, and the Navy.
After a semester of studying and preparation, the 4/C are to be ready for their oral board in front of a panel of 1/C & 2/C Midshipmen.  During this board, 4/C will have their uniforms inspected, after which they will answer a series of knowledge questions, throughout which they must maintain perfect military bearing. MIDN 4/C Khaled Abdulaziz stated that the "most stressful part of all of PQS is standing outside of the conference room door waiting for it to be my turn to go in." Despite the rigorous standards, our most junior midshipmen are extremely motivated and often pass their boards with flying colors, no doubt due to the help of one another and of older Midshipmen.
MIDSHIPMEN INSPECTING EACH OTHER AND CORRECTING EACH OTHERS' UNIFORMS BEFORE BOARDS.
4/C are not the only ones who have to work at PQS. Their 3/C squad leaders, as well as other mids in their chain of command, play a huge role in helping to prepare them. MIDN 3/C Nason is responsible for three 4/C in his squad this semester, and described himself as a resource for the 4/C, and he also required them to each submit a plan of when and how they would complete their requirements to help them get organized. The 1/C midshipmen who administer the boards also get training value out of PQS, as they have to hold both themselves and the midshipmen that they are evaluating to an extremely high standard of professionalism.
MIDN 4/C DAWE AFTER RECEIVING HIS 3/C ANCHOR.
The PQS program serves as a valuable rite of passage in NROTC. After passing their second semester PQS boards, 4/C midshipman are given their 3/C insignia, signifying that they have a foundation of professional knowledge, and that they are ready to take on the additional leadership responsibilities of a 3/C midshipman. The completion of two semesters' worth of PQS gives a fresh 4/C a grasp of basic professional knowledge from which they can continue to learn and develop as future Naval officers. MIDN Abdulaziz reflected after passing his boards and receiving his 3/C insignia, "I feel excited because now I have completed all of the 4/C rituals, and can move on to my 3/C year. I have passed the very first test on the way towards commissioning and countless more as an officer." Passing PQS is a point of pride for all of the mids in the Battalion, and each one can relate to and help out their shipmates who are currently completing theirs, as the first of many trials on the way to a career in our country's Navy.
The Birthday Ball is a time honored tradition in the United States Navy and Marine Corps. The Boston Consortium and ROTC units in general have the unique position of having both Navy and Marine Corps midshipmen and therefore hold the Birthday Ball between the Navy Birthday of October 13th and Marine Corps Birthday of November 10th. Birthday Ball is a way to celebrate another year of success, sacrifice, and service. It is held to think of those who are forward deployed who may not be able to join in on the festivities that year and to remember those who we've lost who will not participate in a Navy or Marine Corps Birthday again. Often, there is one rule for Birthday Ball: have fun—if not for yourself, then for those who can't be there.
This year's Ball was held on the 3rd of November at the United States Coast Guard Base Boston. Midshipmen and staff from both sides of the Charles River trickled in and joined together for cocktail hour and mingled before the ceremony, catching up with those they possibly don't see often enough. The ceremony commenced and the traditions were rolled out in customary fashion. Senior midshipmen entered the ballroom one by one as their names and new service selections were announced. A room full of midshipmen stood at attention as the National Anthem was sung with heavier implication than usual. The cake was brought out and sliced with a sword. The youngest Navy midshipman was handed a piece of cake from the oldest Navy personnel present. The same was done with youngest Marine Corps midshipman and oldest Marine present. This is a tradition passing the knowledge, experience, and reigns of the Navy and Marine Corps from one generation to the next. A message was played from the Commandant of the Marine Corps and Sergeant Major of the Marine Corps. Another from the CNO and MCPON was played. Both congratulated the members in the room on another successful year, preached strength, and urged remembrance.
The guest speaker, Rear Admiral Christian Boris Becker, a commissioned NFO from Boston University and now head of Space and Naval Warfare Systems Command, gave the keynote address over dinner. He told midshipmen bits of wisdom, tales of experiences had and lessons learned, along with some dad jokes (which I personally really appreciated).
After finishing a well-prepared meal, midshipmen (and a few staff members) ditched their coats and hit the dance floor; the ceremony was over and it was time to celebrate. It was a time for midshipmen to relax and let their hair down (figuratively of course). Dances resembling exercises of the Navy standard warm up were performed. Midshipmen from the BU side performed a surprisingly impressive line dance. Overall, good times were had, meaningful words were given, and everyone left the ballroom with some pride in our Navy and Marine Corps and a handful of good memories. Happy birthday, Navy and Marine Corps. 243 never looked so good.
The FEX on the weekend of October 12 was an experience we will never forget. It taught us many valuable lessons and skills, such as land navigation and weapons handling, and brought us closer to our fellow midshipmen. As 4/C on our first field exercise, we were very nervous because we did not know exactly what to expect. However, walking away from this experience, we gained confidence in our capabilities and a sense of pride in completing the weekend.
Upon arriving, we joined with PLC candidates and Yale ROTC midshipmen, setting up our tents and being issued our rifles for the weekend. It was a short night in preparation for the long day that was fast approaching. We slept in our tents with our land navigation partners, taking turns performing fire watch, or guard duty, for an hour to track the events of the night. Mustering at 0445, we began our day with a 7.4-mile ruck.
The ruck was by no means easy, but it brought our platoon together as we enjoyed the beauty of the brisk, rainy autumn day. After our ruck, we went right into land navigation, learning the fundamentals of compass use by finding points spread throughout the forest. However, as we wrapped up our training in location finding, we seem to have forgotten how to keep track of people as a midshipman went missing in the woods for a short while.
After we found our fellow midshipman, we went into Fire Team on the Offensive (FITO) practice. In this exercise, we put our knowledge of fire team formations and hand signals to the test, trekking through the woods to fulfill a series of simulated objectives. This segment of the weekend was awesome because it brought us outside of the classroom for some hands-on learning and gave us personal experience with combat leadership. Also, it was awesome to use blanks and understand more of what it means to be a rifleman.
We finished our first full day with some meticulous weapons cleaning, learning how important it is to take care of the little things. We scrubbed and brushed for an hour or so, earning our sleep for the night.
On the final day, SFS took on the Fire Team Challenge designed by the MOI and AMOI. Using simunition (paint) rounds, fire teams competed against one another to clear a village of the enemy hostile: MIDN 1/C Gosselin. The event was competitive in nature but ended with many laughs and good memories, representative of the weekend as a whole.
From the moment of "Get out of the van!" to the final rifle being turned in to the armory, the weekend was jam packed with adrenaline-filled events and activities. There was never a moment to waste. Physically draining, the FEX left 12 sound-asleep midshipmen returning to Boston.
The weekend put our initial nerves to rest, as we laughed and learned about life as a Marine alongside our brothers and sisters. It was a tiring, but exciting experience that left us with a feeling of accomplishment and pride. We had completed the FEX and represented ourselves well in the application of the things we learn each week. Now, we hold on to optimism and excitement for the many field exercises left in our future.
Cadets and Midshipmen crowded around the edges of New Balance Field on the night of 21SEP2018 to cheer on their players in the annual Curtis Cup. A flag football game, the Cup consists of three interservice rivalry games played between Air Force, Army, and Navy ROTC participants at Boston University.
Students had the opportunity to represent their branch of service on the field in a fun and competitive environment. Pizza was provided for the enjoyment of both players and supporters.
The event kicked off with the Air Force vs. Army matchup. Army Cadets sported face paint and chanted from the sidelines with each play. A sign was posted by Air Force reading "Army and Navy play for second."
With Army beating Air Force in the first game, they had to beat Navy to take home this year's win. The Army vs. Navy game began with much anticipation. Navy held strong on the offensive until an interception was throw, giving Army the lead. Navy was able to come back briefly, swapping points with Army for the duration of the match, but lost in the end.
MIDN 1/C Singley, the BU/MIT NROTC Battalion Commander, paced the sideline of the game with large BOSE headphones reminiscent of those worn by NFL coaching staff. A sign supposedly depicting play calls was held up, containing images of Captain Jack Sparrow and the poster for the film Top Gun.
With Army winning the Cup, Navy still had to play Air Force in a fifteen minute half to determine second place. Navy and Air Force played well against each other, but Navy did not manage to come out on top when the whistle was called.
Navy won the Curtis Cup last year and were reluctant to give up the title, but are looking to the future after this year's loss. "We had a lot of young 4/C out there excited to play. Good to see the enthusiasm in the future looking towards next year," said MIDN 3/C Shortal, this year's team captain.
Despite the loss, Navy ended the night on a high note in a huddle of Midshipmen chanting: "One, two, three, Navy."
MIDN 4/C Patterson said of the event: "I really enjoyed the camaraderie within the company. We may not have won, but we definitely had the best support."
By MIDN 3/C Pavon